Hi friends! Last year one of the trends I loved but didn't dare try was over the knee boots (OTK). Lucky for me the trend is back again this year and hotter than ever! Now being a more "mature" aged lady I have to be careful with trends. I guess last year I just wasn't sure I wanted to invest the money in a pair of OTK boots and I didn't really know if I could pull it off. One things for sure, if you decide to try a trend be sure you are comfortable because no matter how good you look to the public if you don't feel good about it yourself it'll never work!
During the Nordstrom Sale I saw so many great OTK boots but I had to weigh my options. Living in such a hot, humid climate OTK boots won't get worn daily. Add in the fact that they aren't necessarily work appropriate and I am not exactly leading a wild and crazy social life. This But here's the deal I really want a pair of OTK boots! That last little part? Yup, pretty much outweighs everything else. So I knew I would be buying a pair. But it also meant that I'd be looking for a pair priced well under $100. They had to be the right color, the right price, and they had to be comfortable. I figured it would take awhile to meet my list of demands and to be honest since we are still in the midst of temps in the high 90's around here I wasn't in a hurry.
Imagine my surprise when just a week ago I stumbled on the pair. It happened innocently enough, but then again all of my purchases do, while I was reading one of my favorite blogs, http://www.thequeeninbetween.com/. Shelly, the "Queen" had written a post highlighting some fall boots from Target. I immediately clicked on her link and ordered a pair! http://www.target.com/p/women-s-dv-marilyn-over-the-knee-fashion-boots/-/A-50752546
And here they are! They are called "Marilyn" and they are the DV brand. They were actually a little pricey for Target, I don't like to spend $50 for boots at the same store I buy milk but after reading the reviews I took the plunge. I also consulted the reviews for these boots and they were all good. Target has a great return policy and with my Target card I saved 5%, so I had nothing to lose!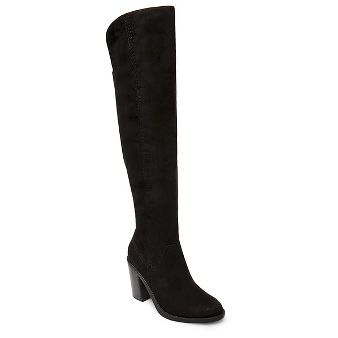 After receiving them I am happy to report that they are comfortable and fit well. I ordered up a 1/2 size. The heel height is good – not too high and not too low. I am not a fan of OTK boots that are flat and fit like stockings. Sorry but I don't find that particular look to be flattering.
Here's how to wear the OTK boot trend, especially for us over 40 gals! Wear them with skinny jeans or leggings. Pop a tunic on top with a great scarf and you are done! So easy to go from drab to fab with just a few pieces. I also love this trend with a dress or skirt. Take a look at my photos below, you could absolutely try this trend!
And yes, I was taking these pictures super quickly to avoid heat stroke! You'll be seeing alot of these pieces in the coming months though. The two dresses were purchased on Friday night at Old Navy. The jacket I am wearing is from Gap but it is 10 years old – no lie! The scarves are several years old from Nordstrom and my favorite leopard print bangle is from Accessory Concierge. If you aren't already aware, LEOPARD IS A NEUTRAL so it can be mixed and matched with everything. I wear this bangle several times a week. I am wearing a pair of denim leggings from Hue that I purchased during the Nordstrom Sale along with my favorite tunic in Olive. Now I am ready for fall! #someonetellfloridatorelaxwiththeheatallready.
Next week I'll do a post on some of my fall favorites for Florida weather so stay tuned!
Over the knee boots, that's what's in This Blonde's Shopping Bag, what's in yours?
Fashionably yours,
Kellyann