As long as we're talking tops that is! Last year I was dying over off the shoulder tops and added a few to my closet. While I still love them, and did add another this year, I found them to be a little difficult to live in. Maybe it's just me but I kind of like to use my arms during the day! Seemed like every time I would lift my arms my top needed to be adjusted. Too much work, too much fussing. Of course I love my off the shoulder tops but I really need to think of when and where I plan to wear them so I can keep the fussing to a minimum.
Apparently I wasn't the only one who wanted the off the shoulder look with a little less fuss. Enter this year's cold shoulder fascination. The cold shoulder gives all the cool vibes of the off the shoulder look with the function of a regular top. No riding up the shoulders, no fussing, no worrying about what strapless bra you'll wear. Most cold shoulder tops are bra friendly, so important for us over 4o gals! Because let's face it you can wear an expensive clothing item but if your foundation pieces aren't doing their duty your intended look falls flat.
Today I added two new cold shoulder tops to my online shopping cart from JC Penney. Now I'll be honest, it's not a store I usually shop but I found a great coupon code, used Ebates and scored a great deal. While I ordered the same top in 2 colors I will most likely keep only one but I will make the final decision when they arrive. And because I HATE paying shipping I chose in-store pick up.
So that's what's in This Blonde's Shopping Bag today!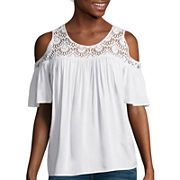 Fashionably yours,
Kellyann