Happy Happy FRIDAY!!!!
Kellyann and I have both been crazy busy getting back into the swing of the classroom, and anyone who works in the education field knows that the first month is literally we go into survival mode!!! I decided to have my friend Kim take photos of everything I wore for the week. It is bloody HOT here in Florida and Kellyann did a post about different alternatives. I believe in being as comfortable as possible and this week's options were easy breezy!!! Everything I am wearing came from three stores-Old Navy, Macys, and Loft. My jewelry pieces were all bought at Versona. Now girls, if you have never been to Versona I feel you have not truly lived!!!! I have a moment of nirvana every time I enter that store! #damnyoubordersforgoingbankruptandversonamovingin
I have a collage of this week….Now, you will see when I do photos I am wearing the same or similar type of shoe. I have the lovely plantar faccittis so in order to make it through a day I have to wear shoes that work-Vionics are my go to shoes!!!! You can find them almost anywhere on-line, but I use QVC or 6PM. #thankyouQVCforeasypay
Top left: I love a cute little smock top and did it with Karen Scott Bermuda shorts. I felt uber comfy! Shirt is from Old Navy and shorts are from Macys.
Bottom left: I adore the Converse look with a skirt so I paired them with a peplum top from Old Navy and a jersey skirt from Macys.
Middle: I struggled and went back and forth about this blue Ikat trapeze dress from Loft. When there was a huge sale at Loft and I could purchase it for $15 I went for it!!!! I am so happy I did because the colors are perfect and you can pair any piece of statement jewelry with this dress.
Top right: Now I have always loved this type of jersey dress from Loft because yes, you guessed it, it is super-duper comfy!!!! I used my silver jewelry with this, but next time I put this on it will be a bright statement piece that I wear.
Bottom right: Ok…ok…..some of you might be thinking how I can wear a halter top to school. I personally feel it covers everything except my shoulders and I have seen WORSE outfits being worn around campus…ie leggings worn as pants and not even of good quality!!! Top is from Loft and shorts are Style&Co from Macys.
I have also put up some links so you can purchase items that are similar to what I am wearing!!! Sooooo….here's to Friday going super fast!!!!
Fashionably yours,
Diane and Kellyann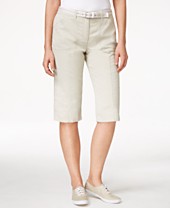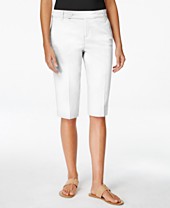 Style & Co. Twill Bermuda Shorts, Only at Macy's Karen Scott Twill Belted Skimmer Shorts, Only at Macy's
Halter Swing Dress for Women